Dog collars and dog leashes are vital to dog owners. They allow pups to safely stay with their owners, display ID and vaccination tags, and even help with training.
When selecting a collar or leash-collar combo, you may want to take your pet's size, strength, coat and obedience level into consideration, along with the intended use for the collar. 
Are you in need of a collar simply to display an ID tag? Is it intended for walking an orderly dog or do you want a solution to help train an unruly, jumpy dog that likes to pull while on a leash? Does your pet often slip out of their collar? Will the collar get wet frequently and require constant cleaning?
This blog breaks down various pros and cons to different collar and leash options as well as provides collar safety tips regarding proper fitting and hygiene practices.
Different Types of Collars and Leashes

Nylon Collar

BioThane

®

Collar

Rolled Leather Collar

Prong Collar or Pinch Collar

Martingale Collar

Standard Nylon or Leather Leash

Slip Lead or Slip Collar

Flexi Lead or Retractable Leash

Gentle Leader or Head Halter

Body Harness

Break-away Collar
Flea and Tick Collar
Nylon Collars
Nylon collars often have a plastic or metal buckle that either snaps together or has a flat buckle like a belt. They often have cute designs and are great for hanging tags, such as identification tags and rabies tags on them. 
These collars are great for when pets are just hanging around the house or for walking if they are well behaved and not likely to try to slip out of their collar. Nylon collars do not tend to assist in trying to manage poorly behaved animals, so if you have a pet where more control is needed, it may not be the proper collar for your pet. 
While many collar types come in a variety of colors, nylon collars have perhaps the largest selection of patterns, colors and widths of all the collar types available.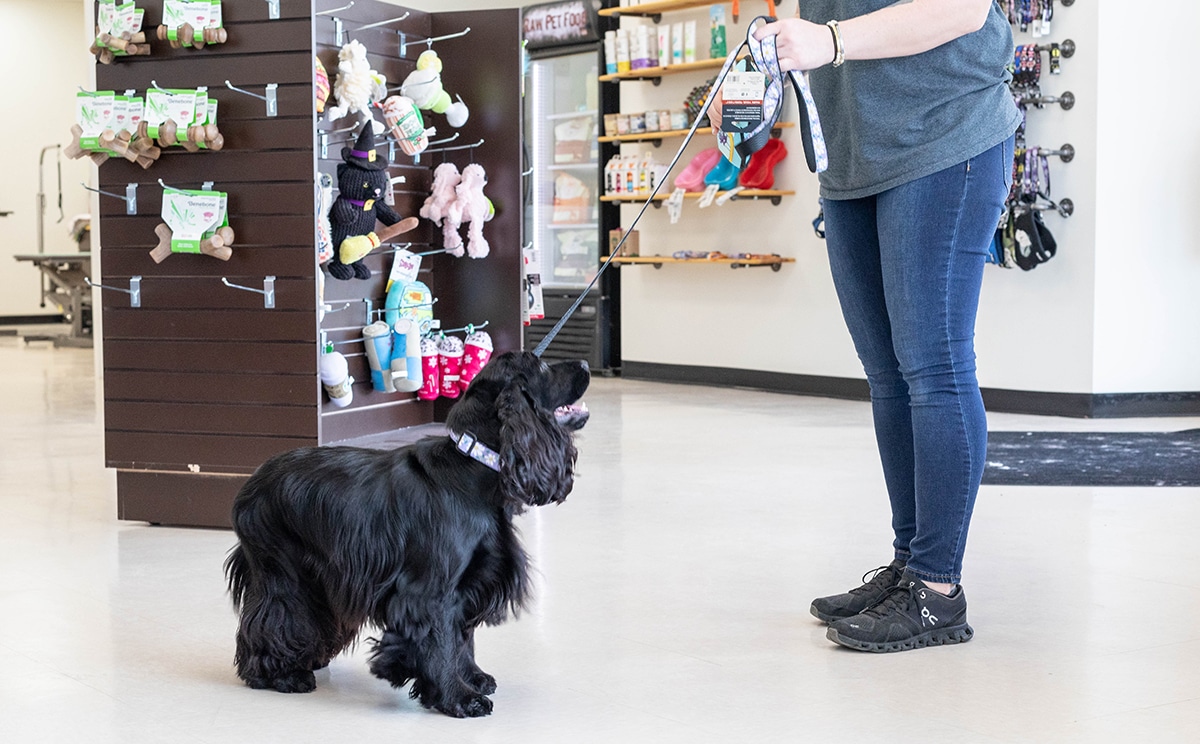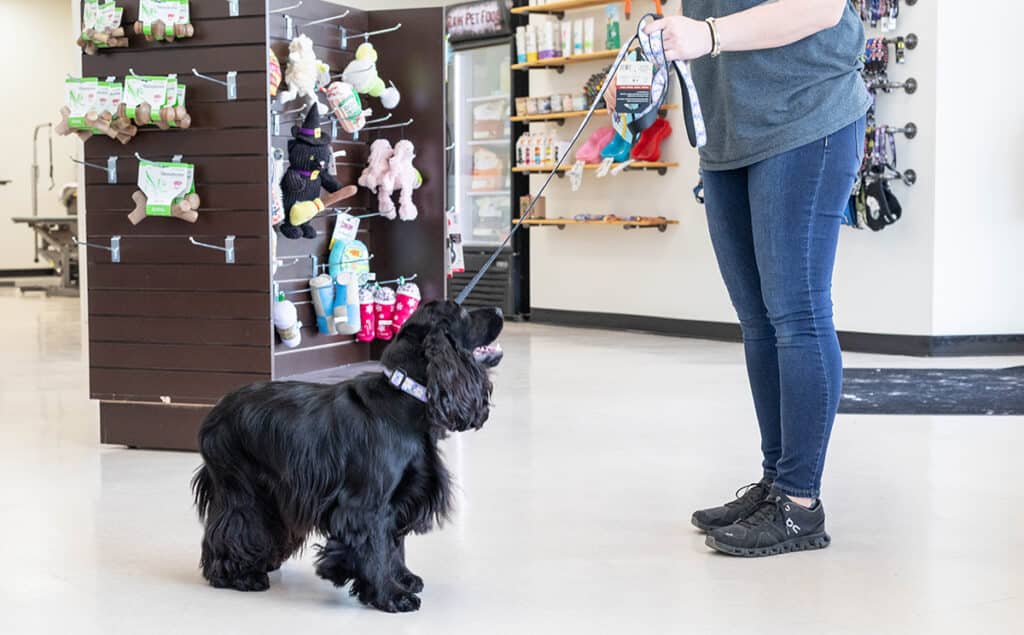 BioThane® Collars
BioThane collars are similar in style to nylon collars as they utilize a belt-style buckle. The main difference between the two is the material – BioThane collars are extremely durable and waterproof due to the polyester webbing having a special TPU or PVC coating. 
They're extremely strong and lightweight. Since BioThane isn't compromised when it gets wet, collars made from this material are easily washed or wiped clean with soap and water. They're particularly great for active pets who like to get dirty playing, swimming or hunting.
BioThane collars are also odor-proof, stain-resistant and non-toxic. They're also softer, less expensive and more flexible than many of their counterparts. They're becoming more prevalent, and more options are becoming available on the market.
Rolled Leather Collars
Rolled leather collars are lightweight and great for all breeds, though they're especially helpful for pets with long hair. Due to their thin, rolled design, they will not create friction like a nylon collar will. The friction contributes to the flattening and matting of the fur around the collar area and also causes coat damage and breakage. 
The rolled leather is nice because it has a smaller point of contact on the fur, causing less skin irritation as well as less tangled hair and less damage. 
They also give your dog an elegant, stylish look and are available in a wide range of colors. When comparing rolled leather dog collars, take the comfort, durability and quality of the leather into consideration before purchasing.
Larger dogs can stretch rolled leather collars, so this type of collar is not always recommended for larger working dogs.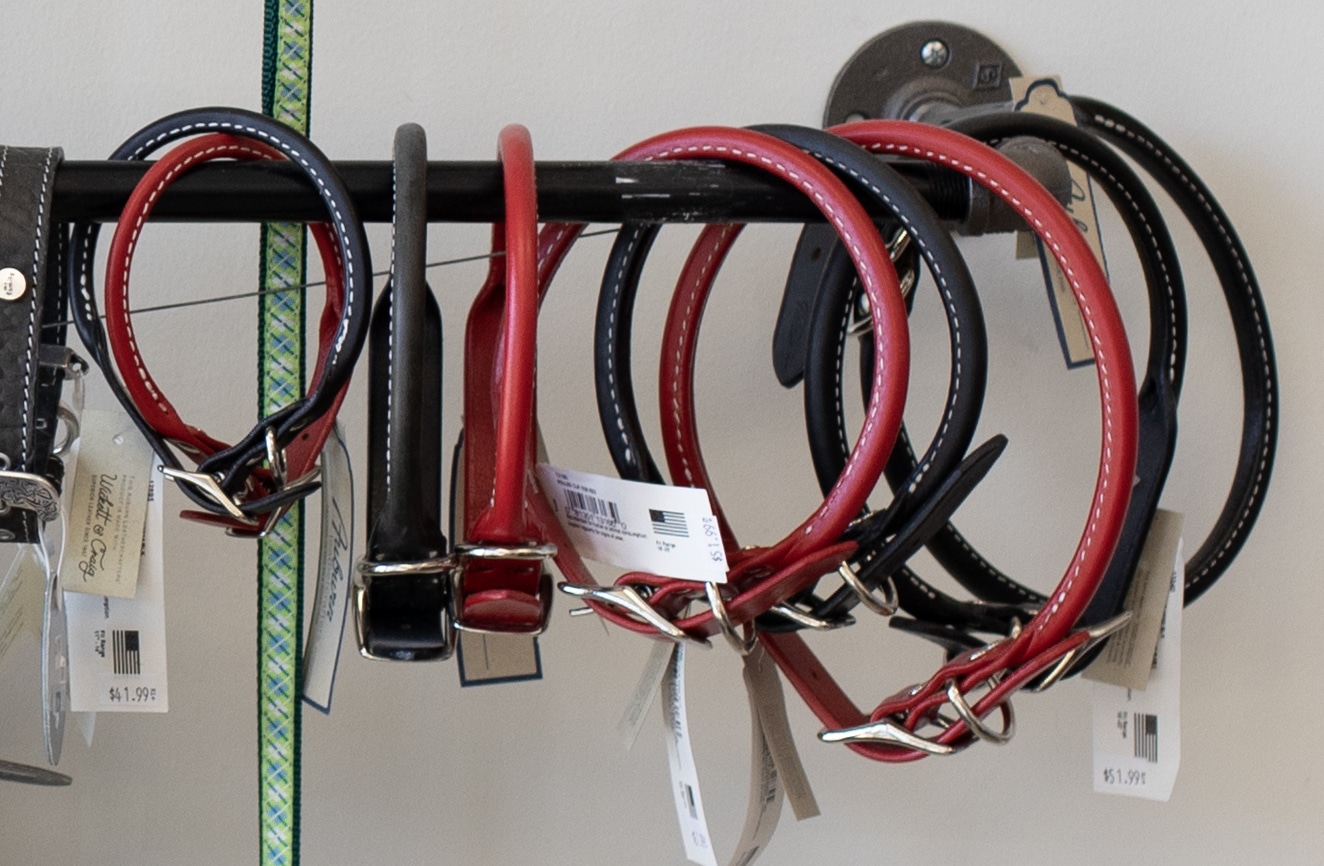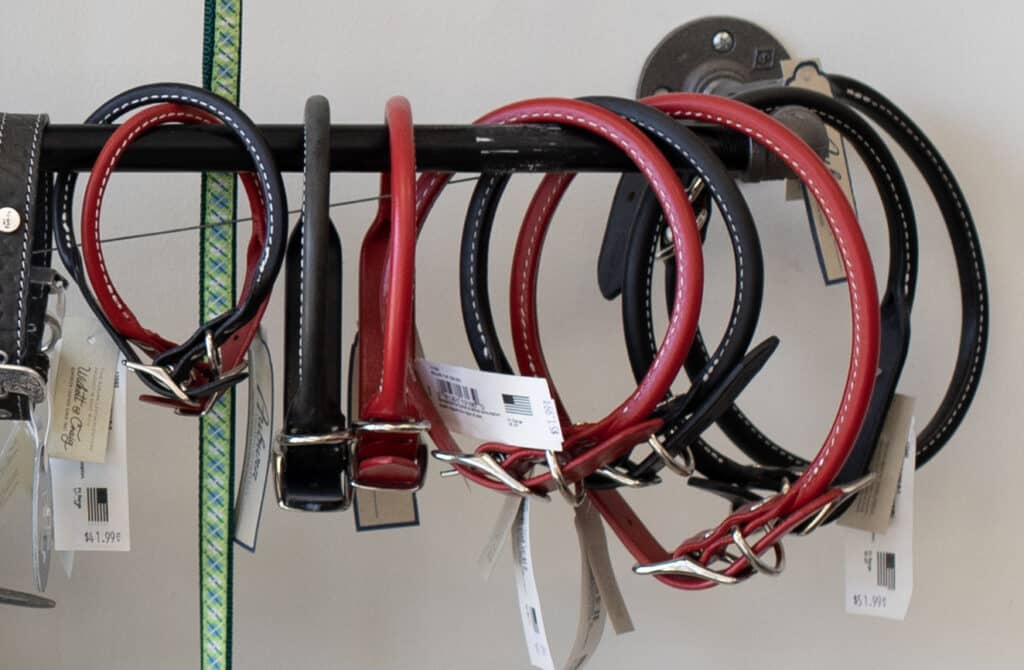 Prong Collars
Prong collars, also known as pinch collars, can be a great tool if used properly. They are meant to be utilized as a corrective device for reactive dogs through both positive punishment and negative reinforcement. This type of collar encourages your pet to decrease poor behavior by irritating and annoying your pet.
The individual prongs are angled in and blunt at the ends, never sharp. When the dog pulls, pressure is evenly distributed around the neck to get the dog's attention. It should sit just below the jaw, and so long as it is fitted properly, it should not hurt the dog.
While great for initial training purposes, there is a lot of controversy around prong collars due to their unintended risks and consequences. Over time dogs may become increasingly fearful, avoidant or even desensitized to the physical associations they attribute to the collar. 
The key lies in training. We recommend using prong collars with the supervision of a dog trainer or pet professional to help train your pet to respond to cues and walk by your side without pulling. 
Prong collars are especially effective for handlers who have strength or mobility issues as well as for large, strong pets. A 150 pound Newfoundland, for example, may need a prong collar to help get their attention.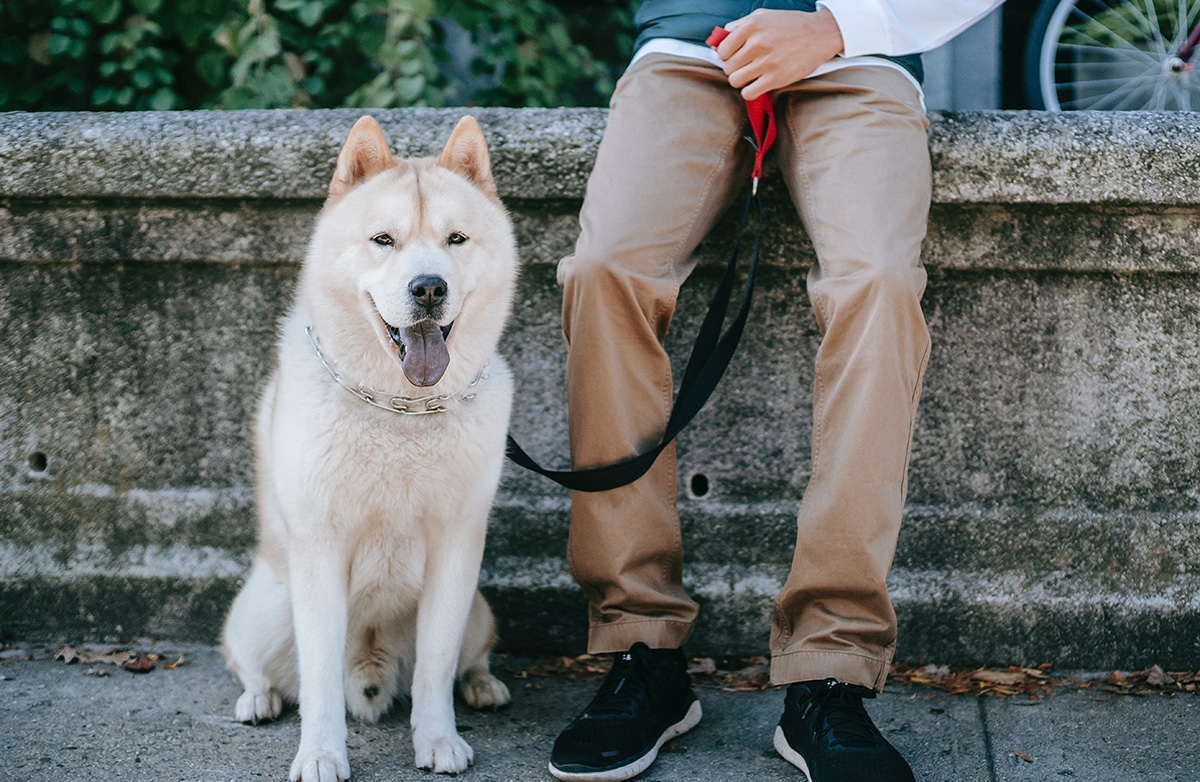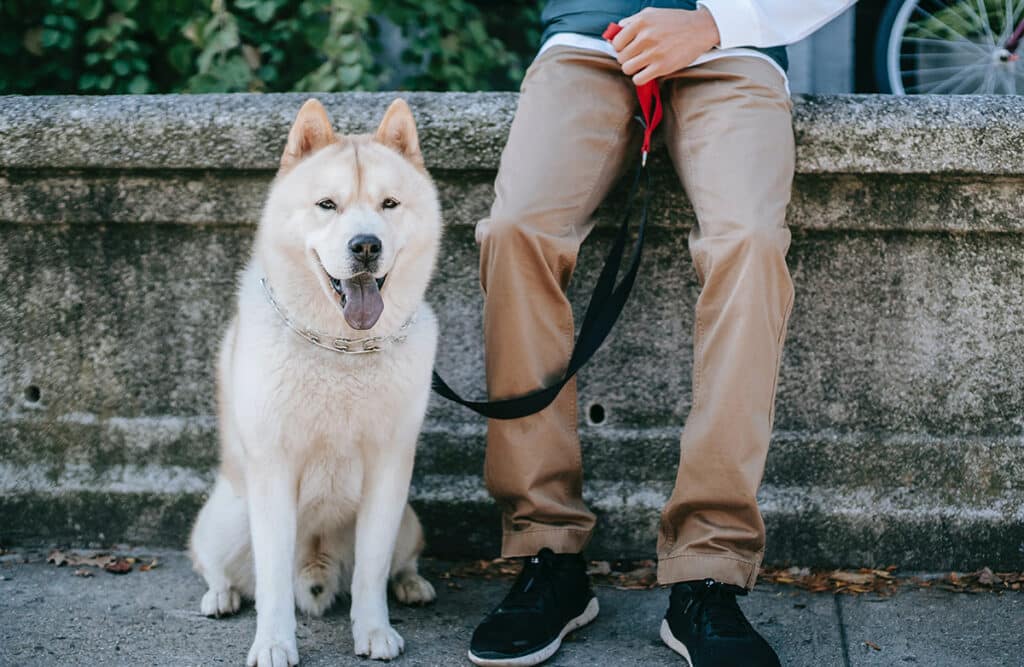 Martingale Collars
Martingale collars (often referred to as no-slip or limited-slip collars) look like flat collars, but part of the collar is a smaller loop of fabric or chain with a D-ring attached. The collar constricts when the dog pulls on the leash – the smaller loop tightens and pulls the larger loop tighter.
This collar is similar to what is commonly referred to as a choke collar, but it will only go as far as the adjustment will allow. It helps prevent damage to the throat that can happen with a traditional choke chain. 
Martingale collars are perfect for dogs that tend to back out of their collars. They provide more control than typical flat collars and are designed to keep dogs safely on-leash without choking them. 
Martingale-type collars are great for dogs with heads narrower than their necks. This is why they're often referred to as "greyhound collars". While commonly used on greyhounds and other dogs with small heads, they can prove indispensable for dogs of all types.
They are not recommended as a solution for dogs who pull nonstop, as they'll constantly have a tight collar. You may also want to consider removing martingale collars when not on walks. The loose design and dangling ring can lead to a higher chance of your pet getting caught on objects.
Standard Nylon or Leather Leashes
These leashes come in various lengths. Typically 4' – 6' are the most common lengths. They are great for walks, training or visiting stores. 
Nylon leashes are lightweight, easy to handle and affordable. They come in a wide variety of designs and colors and can be easily washed. The biggest downfall of nylon leashes is their lifespan, however. They absorb moisture and are susceptible to wear and tear. 
Leather is more comfortable to hold, especially on long walks, and can be less agitating on your dog's skin if they're known to pull. Leather also softens over time without sacrificing durability and is designed for long term use outdoors or exposed to wet conditions if properly maintained.
On the flip side, leather may require some breaking-in. You may want to consider regularly oiling and cleaning a leather leash to maintain its condition.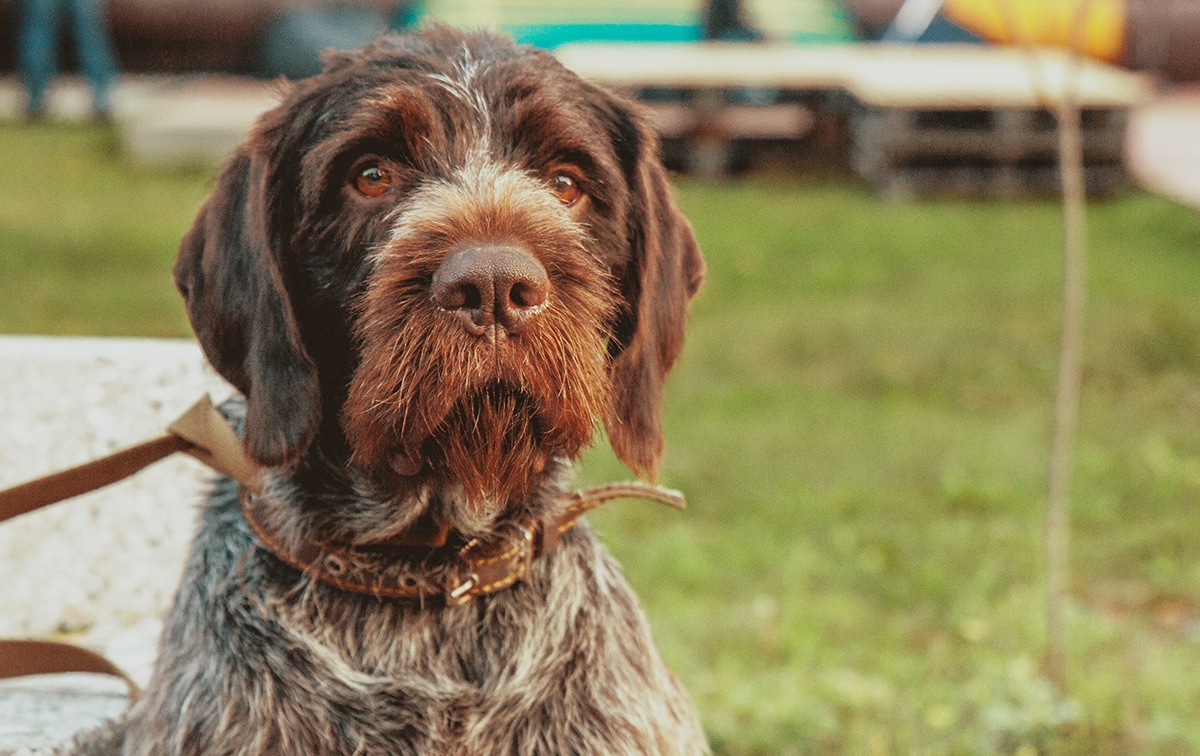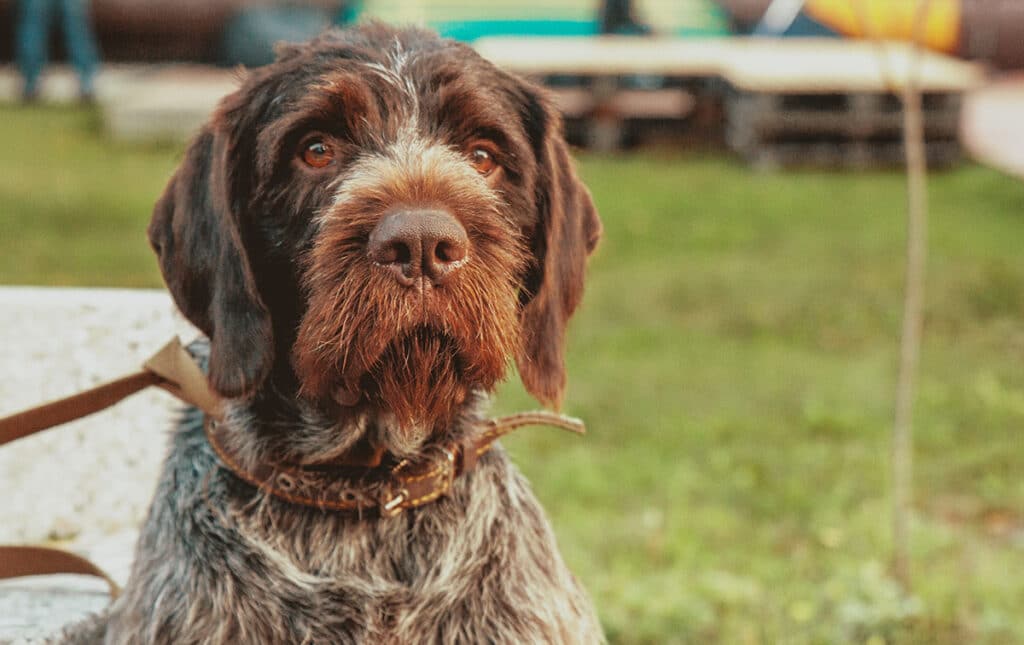 Flexi Leads and Retractable Leashes
Flexi leads are good for letting your dog smell and look around while out for a hike or stroll and can be useful for tracking with scent work or training. They're also great for giving your pet extra freedom to explore and find a place to go potty. Most also contain an instant-stop brake for ease of control.
They are best used on well-trained dogs in areas that are not densely populated. The downside of flexi leads is they can let your dog get into trouble. If on a flexi, make sure you have eyes on your pup at all times. 
It's important to check the product details for retractable leashes if you have a large dog. Some heavy-duty retractable leads are only suited for dogs up to 110 lbs, so make sure your pet is within their leash's weight restrictions.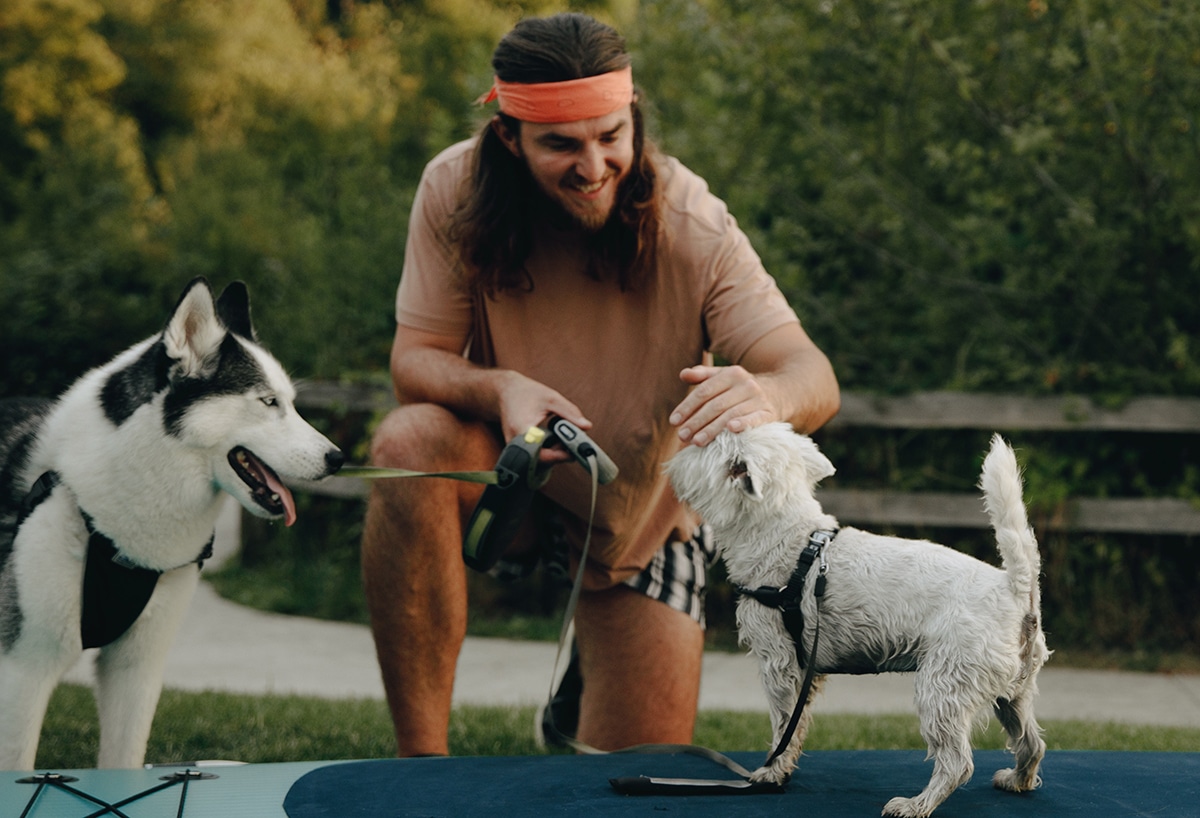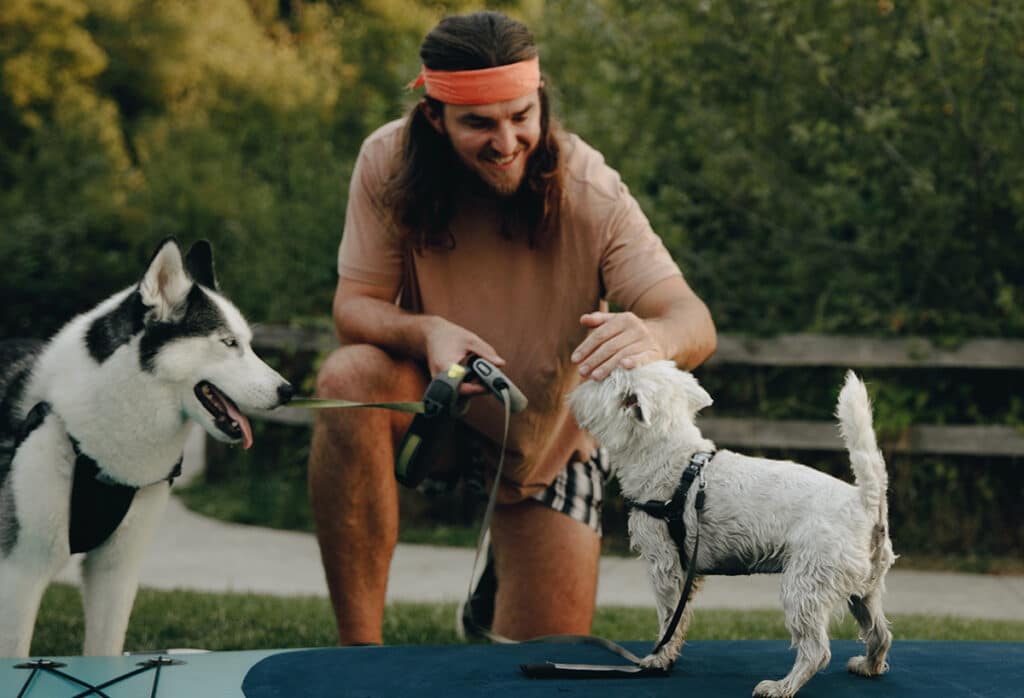 Slip Leads or Slip Collars
Slip leads act as a collar and leash combination and are designed with a sliding or "slip" loop without a traditional buckle. Just slide it over your pet's head and position the slip ring at the back, or scruff, of their neck.
Slip collars work much like a choker chain. They're great aversion training tools, as a tug of the leash will quickly, effectively and comfortably tighten the collar. It should be loose and comfortable when your pet is at rest. 
If you're buying a slip lead for the first time, you may want to search for slip leads made of softer materials like nylon or polypropylene webbing or rope, as they contain more cushion. Once a dog is trained, a leather slip lead may prove to be more effective. 
This type of leash and collar combination can be handy if you're in a hurry or need to run into a store quickly. It's great for dogs who slip out of collars, especially when they're somewhere they might be uncomfortable, like the vet. 
TIP: I always have a slip lead or two in my car, as I tend to find dogs on the side of the road that need rescued.
Gentle Leaders or Head Halters
The PetSafe Gentle Leader is a head halter and is designed like a horse halter. This type of leash/collar combo gives you the ability to direct your dog's attention and move their muzzle without putting unnecessary stress on their neck. Gentle Leaders can help stop poorly mannered pets from lunging and jumping. They are also effective at stopping your dog from pulling.
Dogs typically don't like the feeling at first. It takes some time to get them used to it, but head halters can be a great tool in assisting with training. 
Body Harnesses
A standard body harness helps to avoid contact with the throat and has a clip over the back or on the chest. It's a safe choice when letting dogs run free on a long line while hiking or walking, as it decreases the risk of your pet getting stuck and pulling on its neck. It is also less likely for the leash to get stuck under the legs and is more difficult to slip out of than other collar options.
Body harnesses are an excellent choice for brachycephalic breeds like Boston Terriers, Pugs, Shih Tzus and St. Bernards. These breeds are prone to collapsing tracheas and breathing problems, so it's ideal to avoid devices that contact their throat region.
While great for many breeds, body harnesses are not always an excellent choice for Poodles or other breeds prone to matting. Pets with curlier, more cottony hair are more likely to mat. It's always a good practice to immediately brush your pet where their harness rubbed against them – particularly their underarms and chest – to ensure you avoid matting.
Both step-in and adjustable dog harnesses are available. A step-in dog harness allows your dog to step into it with both front paws before you fasten the back of the harness. An adjustable harness fits securely and requires you to accurately measure your dog's chest. Unfortunately, smaller dogs tend to slip out of adjustable harnesses.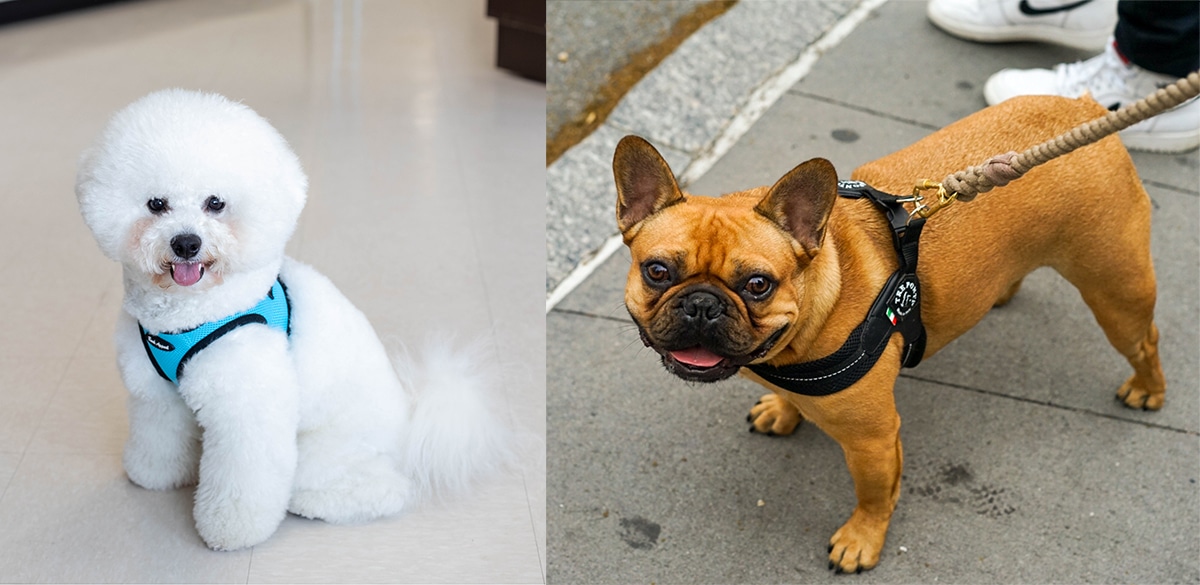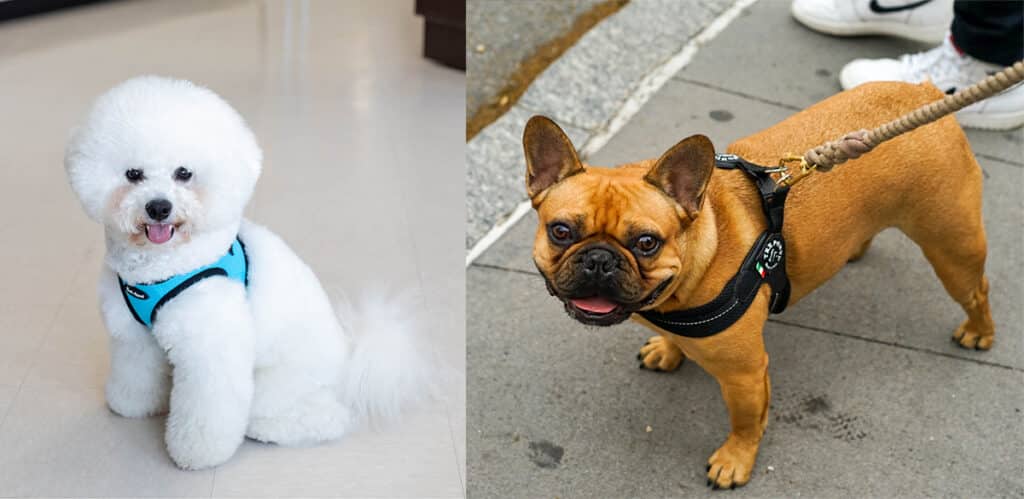 Other Cat or Dog Collars 
Each year, pets are injured or die of collar strangulation accidents. Break-away collars are designed in a way that releases the safety buckle when under pressure. These collars can be reused after the buckle is released.
Flea and tick collars are an effective option for preventing the infestation of pests on dogs and cats. They will not prevent or cure current infestations. These collars are not meant to replace regular collars, but are instead to be worn in addition to regular collars. Check the collar's product packaging for information regarding the recommended length of use. 
Collar Safety – The Proper Fit for a Collar
To know what size collar your dog needs, measure the size of their neck. Use a string or flexible tape measure to measure the circumference where the collar will be worn. A 16" measurement on your pup means you need a 16" collar (or a collar comfortably within the size range).
Make sure you can fit your thumb between the collar and the dog's neck. The collar is too loose if you can fit a whole hand between the collar and neck. A dog collar is too tight if you cannot wedge a single finger.
Also, note that collars will fit differently depending on a dog's position. A collar may fit perfectly while in the standing position but may be snug when the pet reclines. Keep this in mind and keep an eye on your pet when trying out a new collar to ensure they're safe and comfortable.
If you're in the market for a new dog collar or cat collar, chat with your local dog groomer and view the selection available at your local Smoochie Pooch boutique. Since your pet will already be along for the ride, it's a great way to test out a collar or leash before purchasing. And you'll have our helpful staff available to answer questions and give you guidance if needed.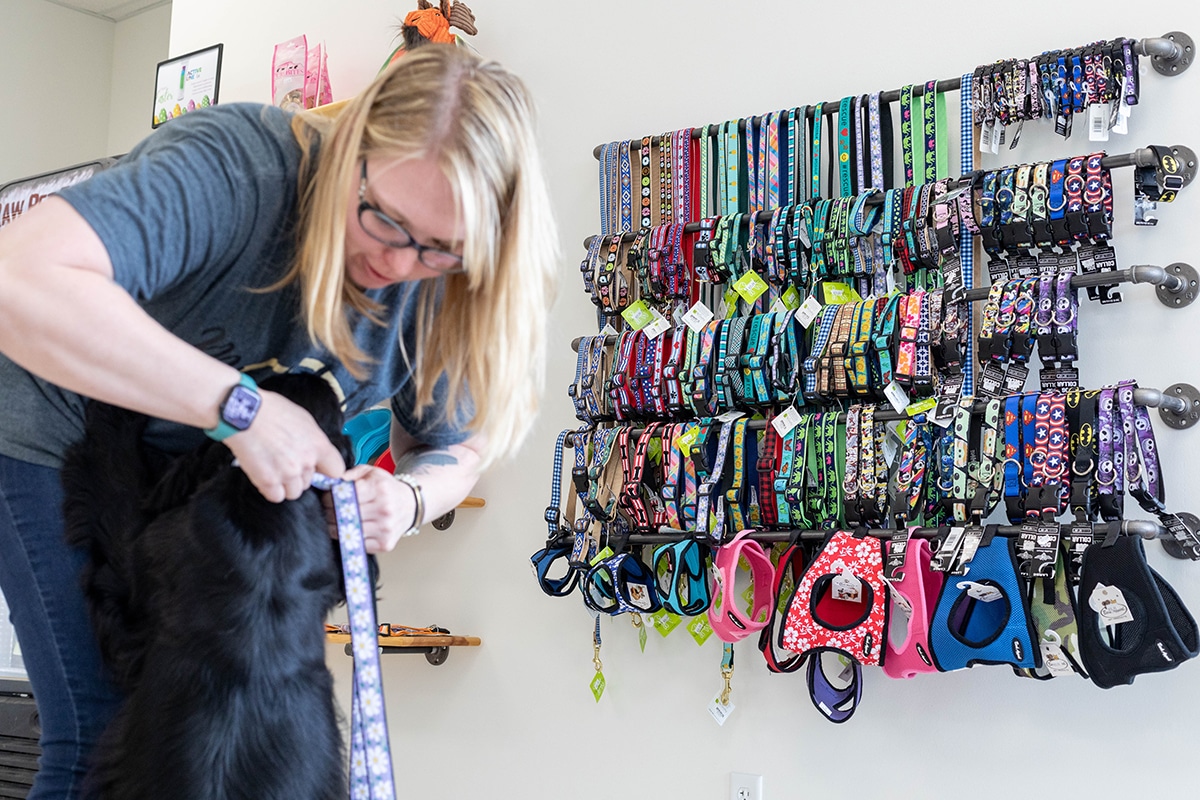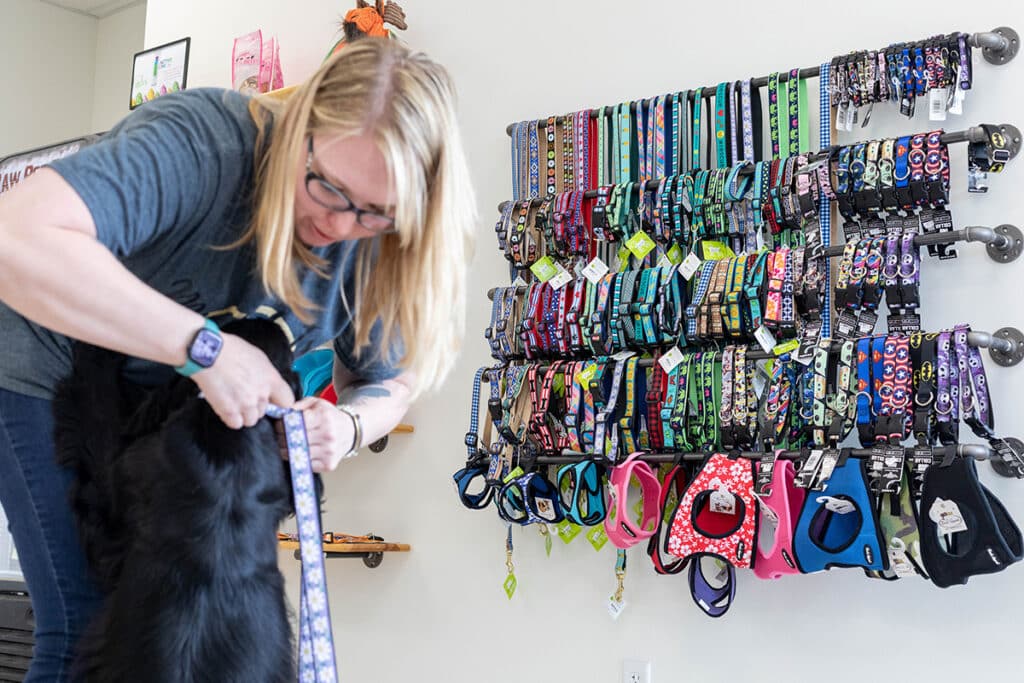 Collar Hygiene
It's a great idea to remove and clean your pet's collar when it becomes dirty to avoid skin problems and trapping moisture under their collar. If your dog swims in ponds and lakes, they'll also be exposed to bacteria, so it's very important to clean their collar (and your pet!). 
If your pet often gets dirty or wet, you may want to take a collar's ease of washing into consideration when making a selection or purchase.
Pet Identification
Adding ID tags to collars and harnesses is a great way to keep identification on your pet at all times. Many stores provide easy-to-use kiosks for dog tags so pets can display their name and pet owner contact info in case of emergencies. 
Many pet owners remove tagged collars at night or while their pet is indoors at home. Dogs are also known to chew off or break free from their collars on occasion, so for these reasons we recommend ensuring your pet is microchipped so your pet may still be identified in case of an emergency.
Keeping an Extra Pet Leash on Hand
Dogs chew, so it's a good practice to have an extra in case they destroy their leash. You may also want to consider keeping an extra collar/leash in your trunk in case you find a pet on the side of the road and need to transport it to a local animal shelter. Better yet, keep it in your pet first aid kit inside your car so you always know where it is.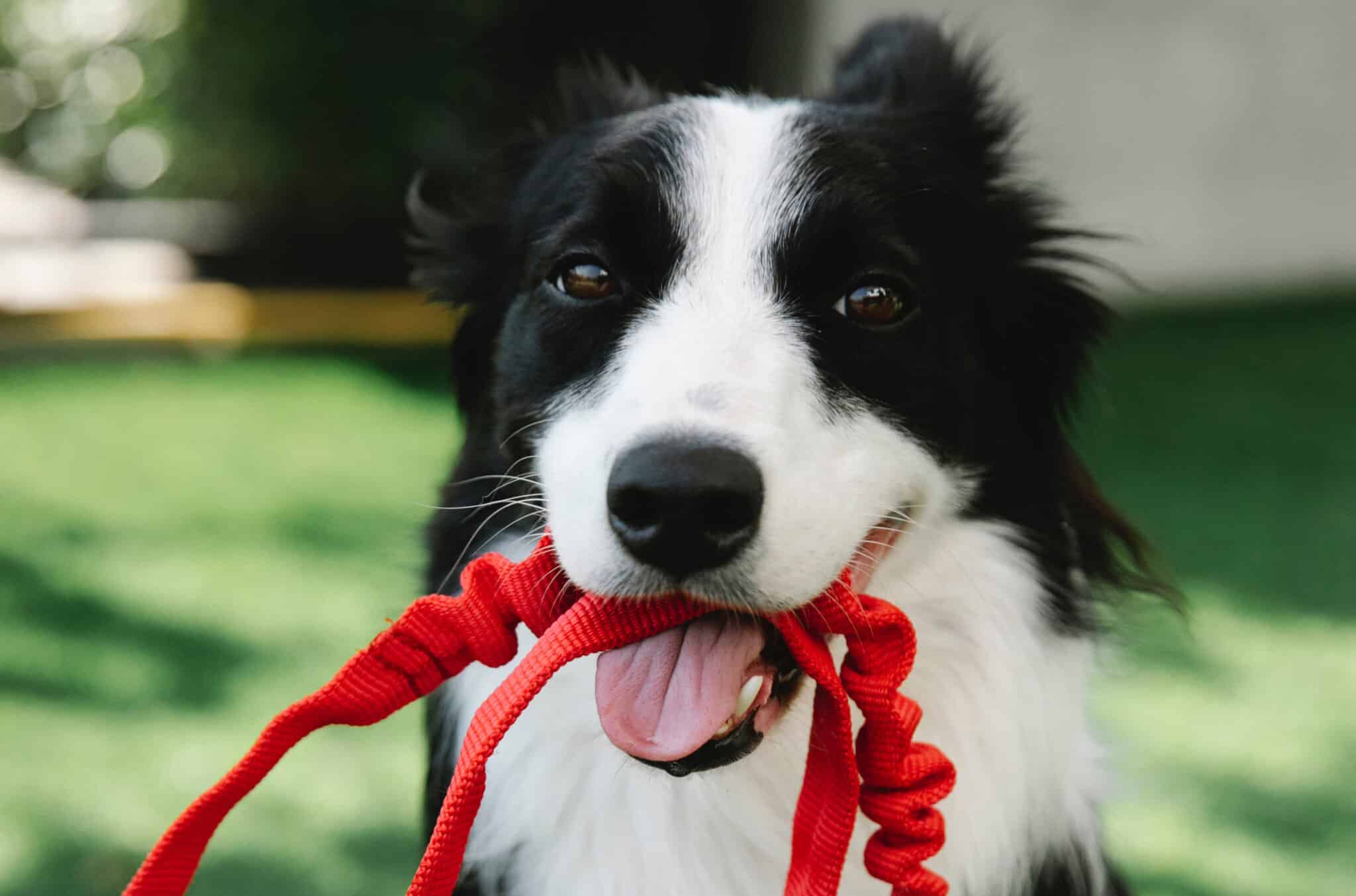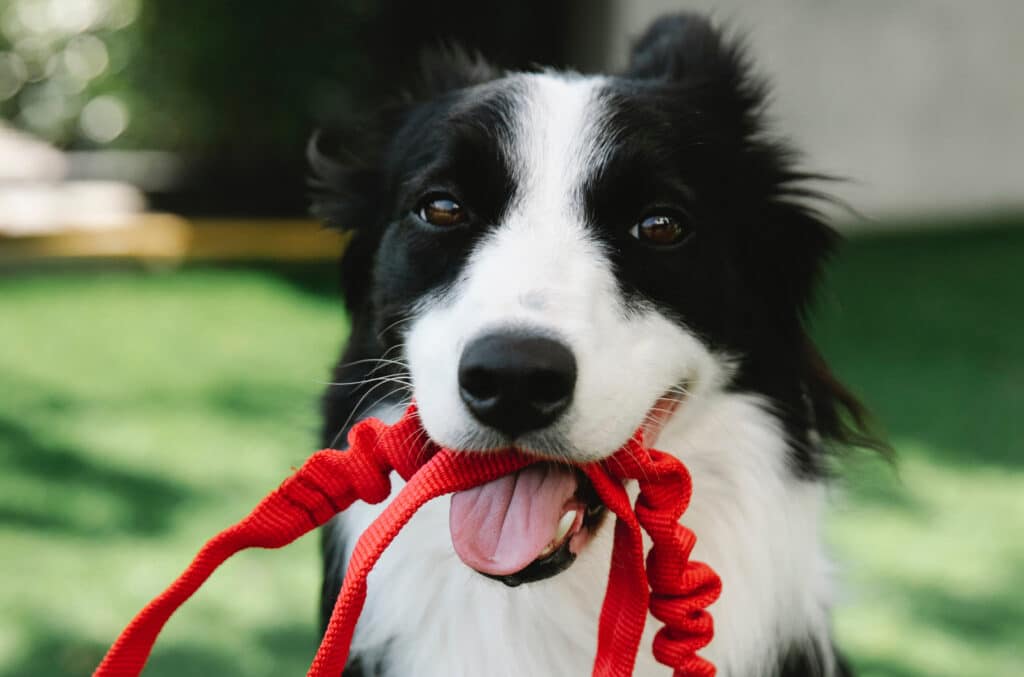 Elli Bultemeier, PTI, NCMG